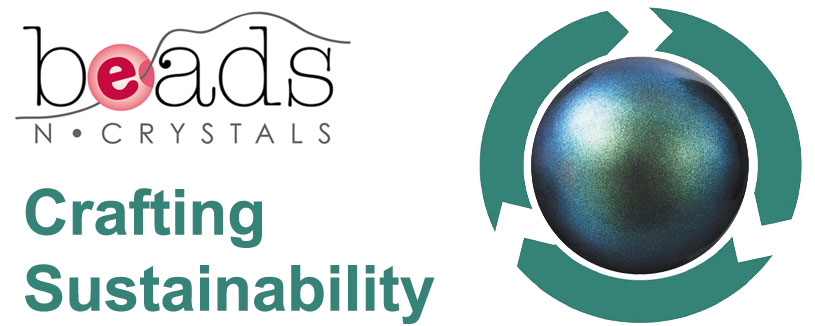 At Beads N Crystals we're committed to reducing our impact on the environment & creating a circular economy.
Energy and rubbish reductions are our two primary areas of focus to kick off this initiative. These are areas we believe we can make the biggest changes, which will have a real tangible and positive impact.
Turning our boxes into soft packing, reusing clipseal bags & bubble wrap, reducing single use plastics and encouraging suppliers to reduce packing materials when supplying to us have helped shrink our rubbish to landfill by roughly 75%. Going from 2-3 bins a week to less than one is a phenomenal achievement and that's just the tip of the iceberg.
Adjustments to our procedures, changes to our air-con system and more efficient lighting have helped reduce electricity consumption by 16%.
We're also taking back packaging material and unwanted craft products for recycling and re-use as part of our commitment to reduce waste and create a more sustainable future. We're encouraging you, our truly valued customers, to recycle, reuse and return. Together we can craft a brighter future.
What we're doing
Reusing Packing Materials
Shredding Boxes to use as Packing
Reusing Plactic Packaging
Using Boxes and Recycled Bags in place of New Bags
We've Completely Stopped Purchasing Plastic Bags and Bubble Wrap
Recycling Anything Recyclable that we can't Reuse
Reducing Rubbish to Landfill
Reducing Electricity Consumption

What you can do to help
Reuse Clipseal & Packaging Bags
Recycle or Compost Paper & Cardboard Packing Materials
Recycle Soft Plastics & Post Satchels in the collection bin at your local supermarket
Return Plastic Containers & Tubes – We give a store credit on selected containers!
Drop in Unwanted Craft Supplies to Benefit Local Schools & Charities

Plastic Tube Credit Scheme
We can accept back any unwanted plastic tubes from our seed beads. Once you've finished with the tubes, simply return them for an instant 20c store credit for each and every plastic tube returned. They will be cleaned and re-used to reduce the number of new plastic tubes we need to import so it makes a real difference! We can only accept back tubes that were originally purchased from us. You can spend the credit straight away or save it for a future purchase.
Put Unwanted Craft Supplies to Good Use
If you're looking to de-stash any unwanted craft supplies (whatever the craft and whatever the condition), simply drop them in or post them to us. We'll then distribute them to local public schools or sell/auction them with all proceeds to benefit charity. We've already forwarded donated craft goods to Junction Park State School to be upcycled by their students & teachers. They plan to sell the items at their fete with proceeds funding a new garden and playground.
If you have anything you'd like to offload, please drop it to us or send it to
BNC De-Stast
318 Ipswich Rd
Annerley Qld 4103
A Big Thank You!
We truly appreciate your help ensuring we can make a positive change. It literally means the world to us!
From all of us at Beads N Crystals,
THANK YOU!
Beads N Crystals, we're not that kind of bead shop!