What are Hot-Fix Crystals?
Hot-fix crystal diamantes, also known as hot-fix rhinestones, are small faceted glass or crystal stones with a flat back pre-coated with a heat-activated adhesive. They are used to add decorative accents and sparkle to a wide range of items, including clothing, costumes, accessories, home decor, and various other crafts.
The term "hot-fix" refers to the adhesive on the back of the rhinestones that is activated by heat, typically applied using a hot-fix applicator tool or a household iron. When heated, the adhesive melts and bonds the rhinestone securely to the fabric or other material, creating a permanent bond that is highly resistant to washing and wear.

Hot-fix crystal diamontes come in various shapes, sizes, colors, and finishes and from a variety of brands, allowing for creative and versatile use in a wide range of projects. They are often used to create intricate designs, patterns, or motifs on clothing items such as dance costumes, bridal wear, and fashion accessories like handbags, shoes, hats and belts. They can also be used to add sparkle to home decor items like picture frames, lampshades, and cushions, as well as in jewellery making and other crafts.
One of the advantages of using hot-fix crystal diamontes is that they offer a secure and durable bond, as the heat-activated adhesive forms a strong and permanent connection with the fabric or material. They are also relatively easy to apply, especially with the use of a hot-fix applicator, and can quickly add a touch of colour and glamour to any project.
When working with hot-fix crystal diamantes, it's important to ensure proper application, including the correct temperature, pressure, and duration of heat application. It's also essential to consider the care and washing instructions for the item once the rhinestones are applied to ensure their longevity and durability. To help, we've put together this guide on both Hot-fix applicators and Hotfix Rhinestones.
If you're working with fabric covered with gems or sequins, you can add a little extra sparkle by applying a scattering of hotfix crystals throughout.
What is a Hotfix Applicator?

A hotfix applicator tool is a specialised tool used to apply hot-fix crystal diamantes or rhinestones to various surfaces, such as fabric, leather, paper, and more. The tool consists of a handle with a heating element and a tip or nozzle that heats up to melt the adhesive on the back of the hot-fix rhinestones, allowing them to bond securely to the material.
Hot-fix applicator tools come in different types, but they all work by heating the adhesive on the back of the rhinestones to a specific temperature, causing it to melt and become tacky. The rhinestones are then pressed onto the material, and the adhesive cools and hardens, creating a secure and permanent bond.
We sell two different hot-fix applicator tools which operate on regular AA batteries for convenient use anywhere. Although there are mains-powered hotfix applicators on the market, to our knowledge there are no electrically compliant models in Australia. We've checked far and wide including searches with the government electrical safety departments and there seems to be no legal importer of the mains powered tools in Australia. For this reason, be extremely cautions of anyone selling mails powered tools as they are likely not legally compliant with Australian electrical safety standards.
How to Use Hotfix Rhinestone Applicators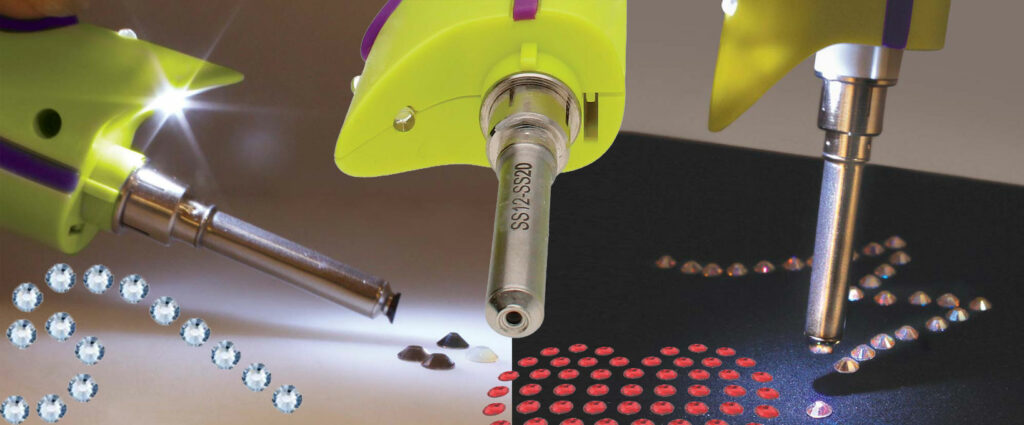 Using a hot-fix applicator is generally straightforward. The applicator is powered by batteries, and the correct temperature is achieved by simply turning the tool on. Once heated, the applicator is pressed onto the material for a few seconds to melt the adhesive and attach the rhinestones. The applicator is then lifted, and the rhinestones are left to cool and bond to the material.
It's important to follow the manufacturer's instructions for the specific hot-fix applicator being used, as different applicators may have different requirements and operating procedures. There are also size restrictions on the crystals that will work with any given tool. It's also essential to practice caution when using a hot-fix applicator, as the heating element can get very hot and cause burns if mishandled. Proper ventilation and workspace setup are also recommended to ensure safety during the application process.
How to use Hotfix Crystal Rhinestones
Applying hot-fix crystal diamantes or rhinestones using a hot-fix applicator is actually quite a simple process with some basic steps. Here's a general guide on how to apply your hot-fix diamantes using a hotfix applicator tool.

Gather your Tools & Accessories: You'll need a hot-fix applicator, hot-fix diamantes or rhinestones, the material you want to embellish, and a heat-resistant surface for working. Crystal positioning tools would also be very helpful in laying out your design.
Arrange your crystal diamantes: Plan out the design or pattern you want to create with the hot-fix diamantes on your desired surface. You can pre-arrange them on the material to ensure proper spacing and alignment. This will allow you to perfect your layout before adhering them. Check out our positioning tools which will make this easier.
Power up and heat the hot-fix applicator following the manufacturer's instructions for your specific tool and allow it to heat up fully.
Apply heat: Once the hot-fix applicator is heated, place the tip or nozzle of the applicator onto the top surface of the crystal diamante. Press down gently to ensure the heated tip makes direct contact with the rhinestone and allows the backing adhesive to heat up. Hold the hot-fix applicator in place for a few seconds, following the manufacturer's instructions for the recommended time. The heat will melt the adhesive on the back of the rhinestone, bonding it to the material.
Lift the applicator: After the recommended time has elapsed, lift the hot-fix applicator off the top of the crystal leaving the rhinestone in place.
Allow to cool and set: Let the rhinestone cool and set on the material for a few minutes, allowing the adhesive to fully bond and harden.
Repeat for remaining diamantes: Repeat the process for the rest of the hot-fix diamantes in your design or pattern, using the hot-fix applicator to apply heat and attach each one to the material.
Apply the Crystal with medium and even pressure.
Allow to cool for at least 5 minutes before moving the project.
Maximum adhesion strength achieved in 24 hours.
Washing Guide for Garments:
Dry Clean: The textile can be gently dry-cleaned using perchlorethylene or hydrocarbon. Turn inside out.
Washing Machine: Turn inside out, choose a gentle wash cycle and use mild laundry detergent. To protect the crystals as much as possible, the use of a soft wash bag is recommended. Low temperature wash recommended.
Tumble Dryer: Turn inside out and dry at reduced temperature.
Ironing: Iron inside out using a wool setting.
Can you Iron-On Rhinestones?
Yes, you can iron-on rhinestones! Ironing on hot-fix crystals is another common method of applying them to fabric although it's generally not the best way to obtain great results as the crystals can move during application. For a specific intricate pattern or even spacing, the individual process using an applicator tool will yield more professional results.

The advantage of using an iron is that it avoids the need to purchase an applicator.
The disadvantages of using an iron are that your iron may not be suitable (for example it may have a lot of steam holes) and that it makes it difficult to apply the crystals in the correct placing.
Also it is more difficult to gauge the pressure being applied to the individual crystals meaning they may not adhere properly.
If you would like to use an iron, select an iron without steam vents, or at least with minimal possible number of steam vents, preferably in one concentrated area of the iron pad so you can avoid using that part of the iron surface. Crystals can get caught in the steam vents when the iron is run over the top causing them to dislodge and flip over.
If your iron does have steam vents, you must fully drain the water from the iron and ensure there is no water remaining in the device. Steam can negatively impact adhesion. Use a flat, firm, stable and heat resistant surface. An ironing board is generally unsuitable.

Set the iron to 150 °C (300 °F) and allow it to heat up.
Place a sheet of cardboard or thick hard felt under the fabric.
Place the hot-fix diamantes in place and cover with sheet of baking paper or Teflon foil.
Apply the heat by pressing the iron over the top of the sheet. Care must be taken to ensure enough pressure is applied, while not applying too much pressure.
Carefully peel back the sheet to check your application. Reapply heat as necessary.
Where to buy Hotfix Applicator in Australia
Beads N Crystals has two different hotfix applicators for sale in Australia. Both are backed by a full 90 day satisfaction guarantee and a 12 month manufacturers warranty. They're perfect for applying Swarovski, Shimr and Preciosa Hot-Fix diamantes, rhinestones, crystals and more. The simple AA battery operation makes them cheap and reliable to operate while also working on the go. Perfect for last minute repairs to costumes on-site , jobs on the go and also on your workshop bench.
Birch Cordless Hotfix Applicator: This tool is perfect for small jobs and more occasional use. It will securely apply Hot-Fix Crystals to fabric, paper or other surfaces in just 3 seconds. The fixed heating pad is 5mm in diameter and will easily apply any Hot Fix Crystals. If the top flat surface of your crystal is more than 5mm, you may need to reposition the tool and apply for a further 3 seconds. Any flatback Hot Fix crystal at 10mm or under with a top surface smaller than 5mm will work perfectly with a single press of the applicator.
The BeadSmith Cordless Vacuum Hot Fix Applicator: This tool suits round crystals in sizes from SS6 to SS20 with the two included tips. Suction allows you to pick up the crystal with the tool which then heats it as you move it into place. With a quick press down and release of the button, the crystal is set in position. This makes larger projects much faster and easier to complete. An LED spotlight mounted at the front lights up your work as you go, so you're not working in the shadow of the tool.
Where to buy Hotfix Rhinestones and Crystals in Australia
Beads N Crystals is home to the widest range of Hotfix Rhinestones, diamontes and gems available. Brands including Swarovski Hot-Fix Rhinestones from Austria, Preciosa Hotfix Rhinestones from Czechia, (Czech Republic) and also SHIMR Crystals are in stock in the Australian warehouse for immediate dispatch. You can also purchase these hotfix rhinestones in the shopfront in Annerley, Brisbane.
Whether you're after rhinestones for fabric, dance and gymnastics, Irish dancing, cabaret or bodybuilding outfits, you'll find the widest selection of colours and sizes.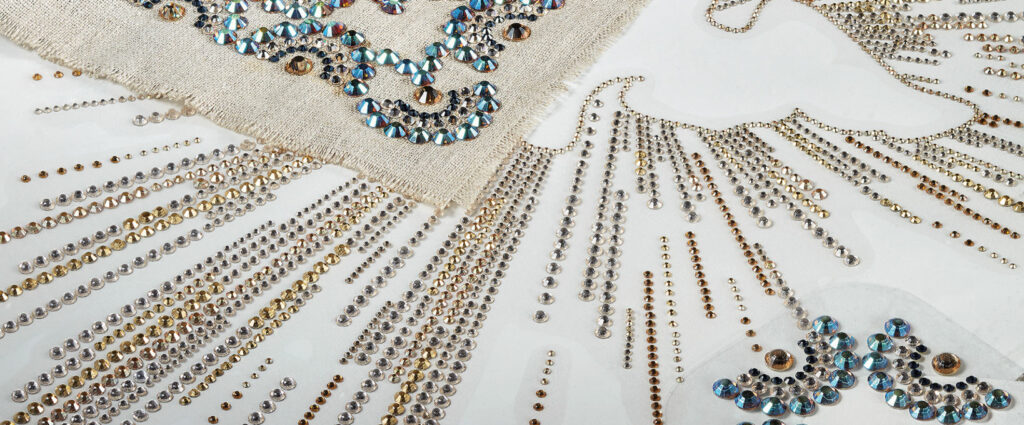 Where to buy Wholesale Rhinestones in Australia
If you're purchasing on behalf of a business or for commercial use, register as a wholesale client at Beads N Crystals to access wholesale pricing on hotfix rhinestones and lots more. We also offer custom orders from our suppliers throughout the world with additional bulk discounts available.