Do you have any broken jewellery laying around waiting for a new life? Bring it to us and we'll repair them so you can wear them with pride again!
Whether it's a beaded bracelet, double strand necklace, stretchy anklet, dangly earrings, knotted pearls or just a dodgy clasp, we can help!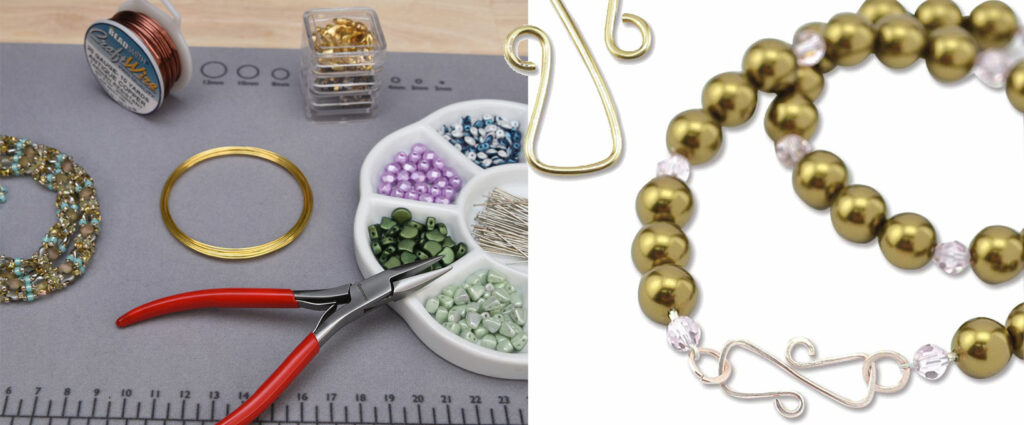 Beads N Crystals is an excellent choice for beaded jewellery repairs. With our decades of experience and expertise in the world of beads and crystals, you can trust that we'll handle your precious jewellery with care and skill.
Our team of beading experts is well-versed in repairing all sorts of beaded jewellery, from delicate bracelets to necklaces and more. Whether it's fixing a broken clasp, restringing beads, or replacing missing gemstones, Beads N Crystals knows how to bring new life to your cherished pieces.
You can rely on our attention to detail and commitment to providing top-notch service. So, if your beloved beaded jewellery is in need of a little TLC, don't hesitate to reach out for a professional and reliable repair service. We've got you covered, bead by bead!
Beading Repair Service Menu
SERVICE
from
Includes
Add
for Extra Services
Pearl Knotting – Bracelet
$36
Single Strand. Up to 30cm. Includes German Silk Thread, findings and clasp.
$11
per 10cm additional length or 10cm of any additional strands on the same bracelet.
Pearl Knotting – Necklace
$65
Single Strand. Up to 45cm. Includes Silk.
$12
per 10cm extra length or 10cm of any additional strands on the same necklace.
Beaded Bracelet – Restringing
$14
Single Strand. On premium Flex-Rite Beading Wire with findings.
$10
per additional strand on the same bracelet.
Beaded Necklace – Restringing
$22
Single Strand. Up to 50cm. On Flex-Rite Beading Wire with findings.
$2.50
per additional 10cm of length or per 10cm of additional strands on the same necklace.
Leather & Waxed Cord Replacement
$14
Up to 1m length. Includes end findings.
No knots, braids or beads on the cord.
Broken Clasp and Ring Replacement
$6
Plus cost of clasp. Per jewellery item. Includes Jump Rings.
Same price per item for basic jobs like chain re-link, Extension chain Attachment etc.
Magnetic Clasp Conversions
$6
plus cost of Magnetic Clasp
or $8
for BYO Clasp
$4
per additional conversion
or $6
per additional conversion of BYO Clasp
Ear Hook Replacements
$8
Pair. With purchase of ear hooks.
$10
Pair. Includes supply of Stainless Steel Ear Hooks
$5
per additional Pair with purchase of ear hooks.
$7
per additional Pair. Includes supply of Stainless Steel Ear Hooks
Clip-On Earring Conversions
$8
Pair. With purchase of Clip-On components.
$10
Pair. With BYO Clip-On components.
$5
per additional pair with purchase of components.
$7
per additional pair with BYO Clio-On components.
Diamante and Rhinestone Replacements*
Clear
$11.50
Up to 3 Crystals
$2.20
per extra crystal up to 5 extra crystals (8 total). Then $1.10 per crystal.
Colours & Crystal.AB
$12.50
Up to 3 Crystals
$2.40
per extra crystal up to 5 extra crystals (8 total). Then $1.20 per crystal.
Sterling Silver or Gold Jewellery Cleaning
$12
Per one jewellery piece. Includes chemical, mechanical and cloth cleaning of fashion jewellery.
$8
per additional jewellery piece.
Findings included in costs are base metal in Silver, Antique Silver or Gold as per your request.
Precious metal or specific findings can be purchased individually, and we'll use those instead.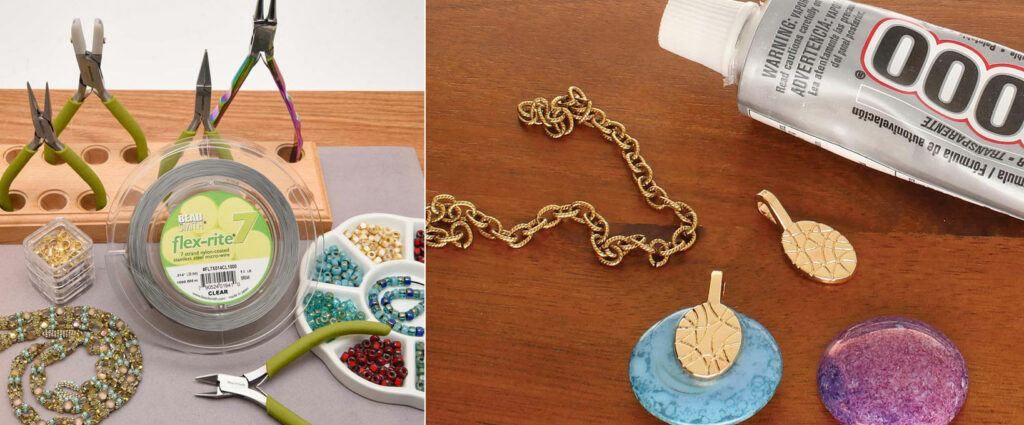 Why get jewellery repaired?
There are several reasons why you might want to get your beaded jewellery repaired rather than simply discarding it or replacing it. Here are just a few:
Sentimental Value: Beaded jewellery can be very meaningful and sentimental, especially if it has been passed down through generations or given as a gift by someone special. Repairing the jewellery can help you preserve its sentimental value and keep it in good condition for years to come.
Cost-Effective: Repairing beaded jewellery can often be more cost-effective than buying a new piece, especially if the jewellery is made with high-quality materials or has significant value. Repairing a damaged clasp or replacing a broken bead can be a much more affordable option than buying an entirely new piece of jewellery.
Environmental Impact: We're all looking for ways to make positive environmental changes in our lives. Repairing your beaded jewellery can also be a more sustainable option than simply discarding it and buying something new. By repairing your jewellery, you can reduce the amount of waste that ends up in landfills and reduce your overall environmental impact.
Preserving Unique Designs: If your beaded jewellery has a unique design or was custom-made, repairing it can help you preserve its original design and ensure that it remains one-of-a-kind. This can be especially important if you have an emotional attachment to the piece or if it is a vintage or antique item. Beading is an art form and it's important to keep the artist's vision alive by maintaining a jewellery piece.
Basically, repairing your beaded jewellery can be a cost-effective, sustainable, and sentimental way to keep your favorite pieces in good condition and ensure that they remain a part of your jewellery collection for many years to come.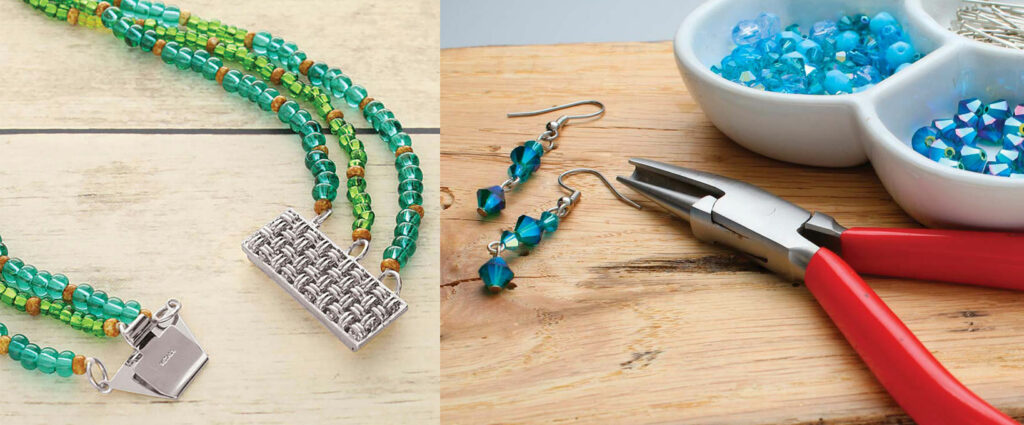 Which Crystal Diamantes do you use?
* Crystal and Diamante replacements are limited to the colours and sizes we have in stock. Generally most round crystals can be supplied in Clear and AB. Some other colours may be available and are priced the same as AB, where available. Note that the brands of crystals may vary between Swarovski, Preciosa and SHIMR depending on the size and colour. We supply the brands in that order of preference.
How do I get my Jewellery Repaired?
Simply drop in to Beads N Crystals at Annerley and we'll discuss the best options for your jewellery repair. You can also email us a photo to ensure we can do the job before bringing it to us.
Not local? We do offer a mail-order repair service. Firstly, we do need to make sure the job is within the scope of our abilities, so we will need to see a photo before you send the item. Secondly, you'll need to arrange to post the item to us. Please also consider the cost of return postage. You may include a reply addressed pre-pair Australia Post satchel, or alternatively we can arrange the postage at an additional cost on completion.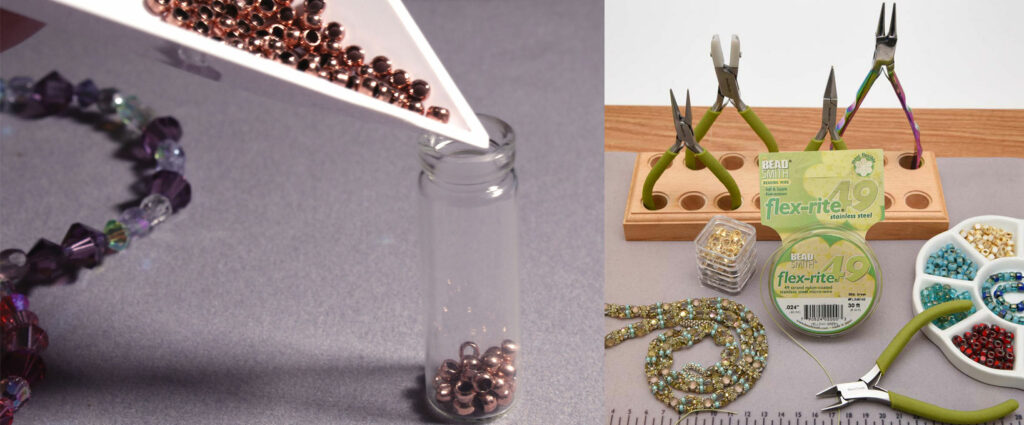 How are the Costs Calculated?
The service menu above includes a guide to our standard repair service charges. Most jobs are priced as per the table, unless there are some unforeseen circumstances that arise, such as pearls that need to be reamed, gemstones with threads glued into the hole, and things like that.
The only other reason costs may be higher than those specified are for special requests such as 49-Strand Beading Wire, Sterling Silver jump rings, a specific clasp, a specific colour of thread, a rush on a job that would otherwise take 7 days, etc.
We require payment of special parts on commission of the job. If you have selected sterling silver findings, picked a magnetic clasp, or we're applying clip-on earring findings, we do need to put the sale through on those items to keep our stock count accurate. Otherwise, the service charges can be paid on commission or on completion. It's up to you.
How Long to Repairs Take?
Most services are performed on a Drop-and-Collect basis. We anticipate a 1-week turnaround on most repairs. Note that during peak times and pending staff availability, this may take longer. We will always try to prioritise repairs and will advise if the expected completion date may be longer than 1 week when you make the booking. During the months of October, November and December, around public holidays and also during the school holidays, we expect repairs to take a little longer.
We may be able to offer next day, 1-hour, or while-you-wait service on certain smaller tasks, however this will depend on current staffing and our workload at the time. As this kind of express service is subject to certain staff being available, and the number of customers in-store, we recommend calling ahead to check and avoid disappointment. Same day service isn't possible at all between 1pm and 4pm most weekdays, or on weekends.
Where glue is involved, we may need to leave the jewellery to sit undisturbed for up to 3 full days to allow the adhesive to fully cure. This may affect the completion time of your repair, particularly if there are multiple stages that require gluing.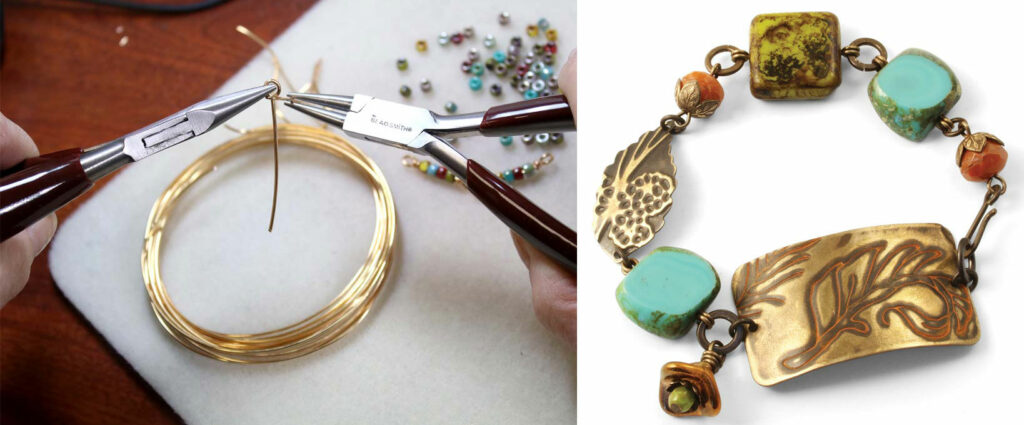 Can you re-use my old clasp or a better quality one?
We'll be able to advise on whether we're able to re-use your findings. Occasionally there may be factors that make it not possible or not advisable such as damage, a style that can't be threaded or a metal that may be a skin irritant. We have a strong focus on sustainability so we will always recommend reusing or repurposing components where possible.
If you'd prefer a premium quality component, we'll help you select a suitable product from our range of Sterling Silver, Gold, Stainless Steel and premium tarnish resistant ranges of clasps and components.
On all services that include base metal findings, you can opt to purchase Sterling Silver, Gold Filled, Gold Vermeil or Stainless-Steel components including ear hooks, clasps and rings, which we can use instead. You can definitely bring your own clasps or re-use suitable findings from your original jewellery items.
Can you do Repairs not Listed above?
We are able to offer repair services not listed above. The table covers most of our common services and the standard prices for those. We're happy to discuss other repairs and projects which will need to be quoted on a case-by-case basis. Note that complex tasks and repairs are likely outside the scope of our workshop's ability.
We are more than happy to have a look at your items for free and no obligation advice on what we can and cannot do and whether the repair is feasible. For services we can't do, we'll give you some ideas on the best direction to have your jewellery repaired.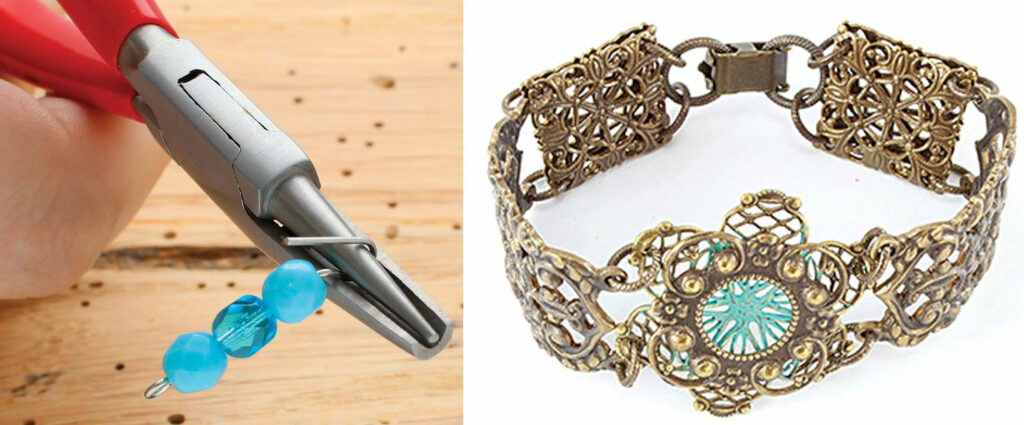 Can you Repair Anything and Everything?
Our services are for basic repairs and refreshes of fashion and costume jewellery. Complex tasks such as seed beaded woven patterns, metal soldering, wire wrapping, intricate braiding and knotting, and other more detailed projects, we're unable to perform the repairs. You may find tutorials on YouTube or consider making contact with a specialist beader via your local community markets or craft groups to find someone who may be able to help.
For precious metal, highly sentimental or highly valued jewellery, we are unable to offer our services. For those items we recommend contacting a full-service jeweller. You may find a jeweller in your nearest major shopping centre or town that can offer this kind of service.
What Guarantees do you Offer?
We guarantee our workmanship and parts for 90 days, or longer as required by the Trade Practices Act consumer guarantees.
Where the work we have performed or the parts we have supplied become faulty, break or fail for any reason through no fault of your own, we will repair or replace those parts and recommission our services at no charge. A full payment refund of the original cost for our service charges and parts will be offered if we deem the fault likely to continue to arise.
Although we guarantee our work and the parts supplied, we're unable to offer any further guarantees where faults appear in other parts of the jewellery or for any incidental loss as a result of the issue at hand. Misuse or rough handling of the jewellery item will invalidate a warranty if that is the cause of the fault.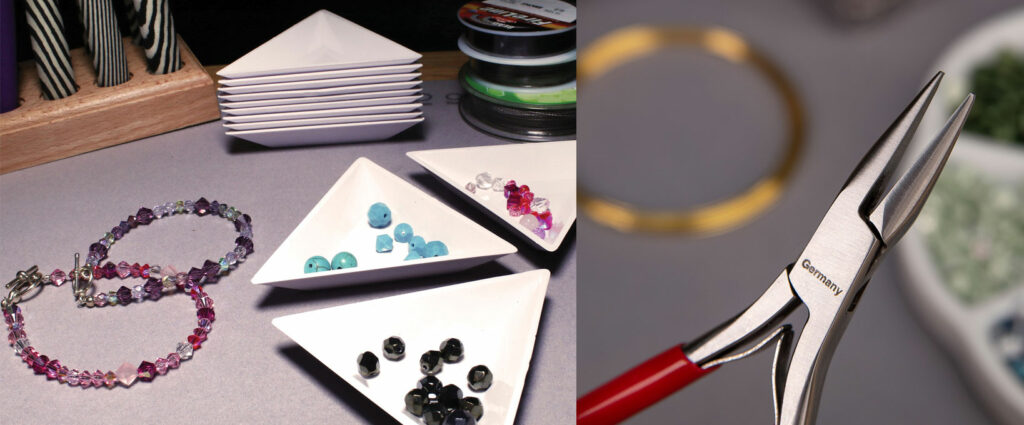 Can you Sit Down and Show Me How to Repair my Item?
Right now, we're not offering private lessons, but it is something we may consider in future. If you're looking to do the job yourself, we're more than happy to show you the products and tools you'll need to get the job done. We may also be able to provide a flyer with instructions, or a link to a YouTube tutorial.
Although the initial cost of restringing a bracelet yourself may be higher than the cost of getting us to do it for you, there are several benefits to doing the repair yourself:
Firstly, we'll give you guidance, so you'll be able to do the job by hand at home. This will help give you the confidence to tackle these types of tasks yourself.
Secondly, you'll then have the things you need so you'll be able to do many little repairs and even make new pieces of jewellery at home. This ability to repair and make more things using the tools and left-over findings should present significant cost savings over time.
How do I go about getting my jewellery repaired?
First of all, we will need to see the task at hand to advise on what can be done. If you're able to visit us, please drop into our bead shop. Otherwise sending us a photo so we can check out the task ahead. Once we've been able to determine the complexity of the task, we'll advise the estimated costs and options. With that information, you can then make the decision whether to proceed with a repair, perform the repair at home yourself, or decline repairing the item.
Next, we'll need to get your piece. Simply leave it with us, or if you're dealing remotely, post it to our shop. We'll then perform the repair. If you are planning on posting the item to us, please wait until we have responded with your best options before sending the item, just in case we can't do the repair.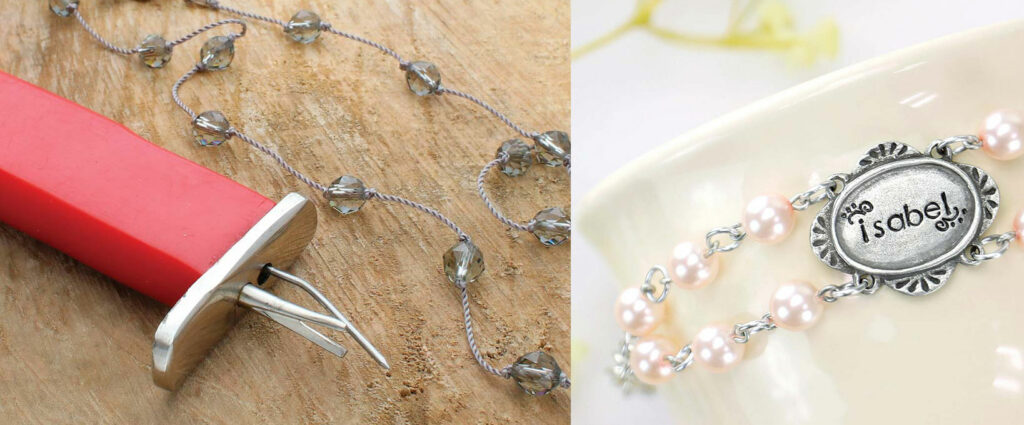 Choosing Beads N Crystals for getting your jewellery repaired is a wise decision. Our expertise in the world of beads and crystals, along with our skilled team of experts, ensures that your cherished jewellery will be handled with care and precision.
With a wide range of experience in repairing various types of beaded jewellery, from bracelets to necklaces, Beads N Crystals is well-equipped to address many common repair needs your jewellery may have. Our attention to detail and commitment to providing top-notch service will leave you feeling confident that your jewellery is in good hands.
Whether it's fixing a broken clasp, restringing beads, or replacing missing gemstones, Beads N Crystals can bring new life to your beloved pieces, allowing you to continue enjoying your treasured jewellery for years to come.
So, if you find your beaded jewellery in need of repair, don't hesitate to entrust it to Beads N Crystals. Our passion for jewellery and their dedication to customer satisfaction make us an excellent choice for all your beaded or costume jewellery repair needs. Your jewellery will be handled with the utmost care and expertise, ensuring that it shines as brightly as the day you first fell in love with it.
Shop everything Beading at Beads N Crystals, We're not 'that' kind of bead shop!