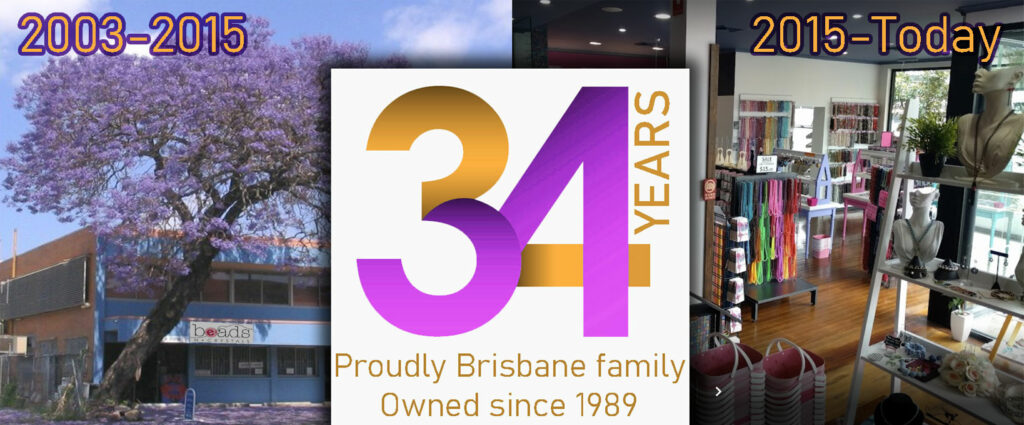 We've put together some information so you can learn all about Beads n Crystals, Australia's favourite bead shop.
Beads N Crystals is a well-known bead craft and jewellery supply store located in Brisbane, Australia. They have evolved over the years to become home to the widest and most comprehensive collection of craft beads, craft supplies and everything you could possibly need for a wide array of beading crafts.
Beads N Crystals is a family-owned business that has been operating in Brisbane since 1989. They specialise in providing high-quality craft supplies to customers, including beads, sequins, trims, ribbons, and other jewellery and craft embellishments.
Born from humble beginnings, Beads N Crystals began life under the name of Mr Tumbles as a small trade-only business located in a residential garage in Nundah, on Brisbane's inner north. Not too long after, the business moved to a location in West End before relocating to the classy Mayfair Arcade on Adelaide St. The new Brisbane CBD store is where they began trading as Beads N Crystals. Renovations on the Mayfair Arcade almost eight years later saw the bead store move to a temporary location down the road on Roma St.
In 2003, Beads N Crystals moved to Constance St in Fortitude Valley, just near the RNA Showgrounds. Two shops emerged with Beads N Crystals on the street level and Mr Tumbles on level 1. A gigantic leaning tree out the front was inspiration for the new nickname "The Bead Shop Under the Jacaranda Tree."
After five years in this location the original owners retired and sold the bead shop business. As part of the transition to new management, Mr Tumbles was dissolved and level 1 became home to the Beads N Crystals bead store Workshops. Over the following seven years, beads N Crystals grew and expanded their product range immensely to the point they were literally bursting at the seams, so another move was imminent.
Over the Easter weekend of 2015, tonnes and tonnes of gemstones, craft beads, trimming and stringing supplies were moved across the Storey Bridge and down the road to Annerley where the newest bead store in Australia was opened. Almost 300 enormous square metres of bright and modern bead store were revealed with a huge grand opening event.
Beads N Crystals at Annerley is set up in a unique way unlike any other bead store in the country. Zones based on bead craft are laid out across polished wooden floors with an interesting and alluring atmosphere. It's for this reason the new slogan "Not 'that' Kind of Bead Shop" emerged. Beads N Crystals really is not like any other bead shop you've ever experienced before!
Their wide range of beads, crystals, findings, and other jewellery-making supplies, cater to both professional jewellery designers and hobbyists alike. The store stocks a vast array of products, including semi-precious gemstones, freshwater pearls, Swarovski and Preciosa crystals, glass beads, metal findings, and much more. Their products are sourced from all over the world, with a focus on unique and hard-to-find items.
Partnerships with leading brands has allowed Beads N Crystals to become an official importer and distributor of E6000 and Fabri-Fuse Adhesives, Famowood resins and Unicorn SPiT. They are also direct importers of CosClay Polymer Clay, The Bead Smith tools and wires, Miyuki and Matsuno seed beads, Preciosa Beads, Preciosa Crystals, and exclusive distributor of SHIMR Crystals, beads and trimmings. Craft brands such as Sculpey, Premo, Soufflé, Piñata, PearlEX, and Jovi are also stocked.
Along with over 15,000 products, the Beads N Crystals online store also carries a wealth of information on beads and beading. In addition to their online store there is, of course, the physical store located in Annerley, Brisbane, where customers can browse and purchase their products in person.
Beads N Crystals are known for their vast selection of high-quality products, their competitive prices, their knowledgeable staff, and excellent customer service, making them a popular destination for jewellery enthusiasts and crafters in the Brisbane area and across Australia.
Overall, Beads N Crystals is a popular destination for anyone looking for high-quality and affordable jewellery making and bead craft supplies in Australia.