Simply place an order for $100 or more worth of products and Regular Postage will be offered free of charge to any standard address in Australia. Orders can be sent via Courier or Australia Post, so Post Office Boxes are suitable as a delivery address.
For international orders – Please contact us for an international postage quote.
The Express Post option will incur a cost of $12 per order to any address in Australia. Next day delivery is possible to areas specified by Australia Post. A flat fee of $7 Postage applies to all orders with a value of under $100 regardless of the physical size or weight.
Most services now include basic tracking. Please contact us if you would like additional insurance cover on your order. Although on some small orders, the cost to us may be less than the amount charged, the majority of orders cost us in excess of amount charged. We do not profit from postage.
Please note these free postage and flat rate prices apply to orders placed through this website and paid in full via credit card, PayPal or Bank Deposit only. Phone or email orders will incur postage costs at the rates advertised by Australia Post or Couriers Please. In the majority of cases, these flat rates offered are far below our actual true cost of postage.
Order:
<$100
$100+
Any_Value
Service:
Regular
Regular
Express
Cost:
$7
FREE

$12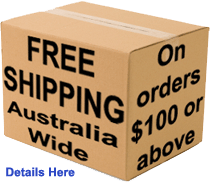 Orders may be sent via Australia Post or Courier depending on your address and the order size & weight. Most orders will be dispatched on the same or following business day, when all items are in stock.
To get free postage, you do need to select the free postage option at checkout which will be available below the Regular, Express and Pickup options during checkout on orders valued at $100 or more. If you don't select the free post option, we will be unable to amend the postage selection once the order is processed and paid.