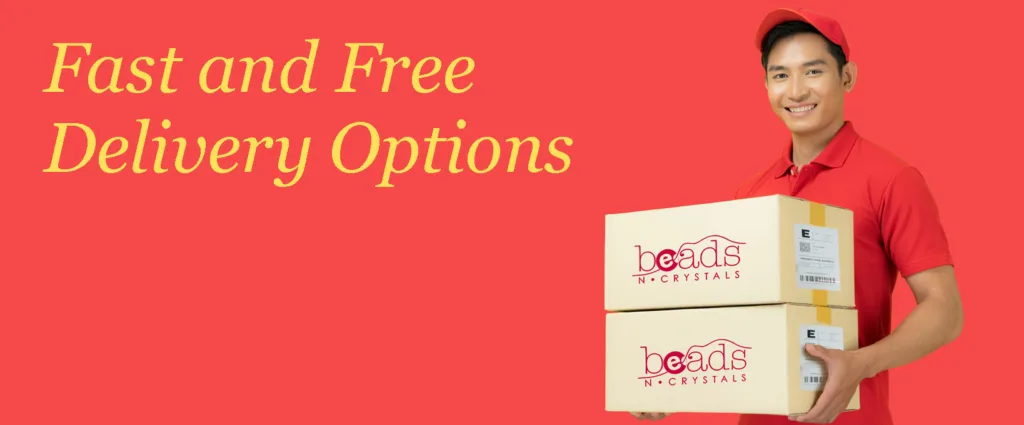 Simple & Cost-Effective Flat Rate Postage Options
Buying beads from Beads N Crystals Online Bead Shop couldn't be easier or faster! With FLAT RATE Regular and Express Post options as well as free postage on orders over $100, you can have you beads in your hand in no time at all. We pick, pack and dispatch orders 6 days a week and aim to have most orders with the post or courier on the same or following business day.
Orders can be sent via Courier or Australia Post, so we can send your beading goodies to your home, work, Post Office Box or parcel locker.
Regular Postage Cost – Flat Rate $9
Our flat rate of $9 postage covers delivery of any order to any valid address within Australia, regardless of the physical size or weight of the order. This makes bead shopping easy! There's no need to continually check the cart for the huge jumps in cost. It doesn't matter how much you order, our postage rates stay the same!
Express Postage Cost – Flat Rate $13
Express Post is available for just $13. Again, this is a flat rate cost on any order so there's no need to continually check the cart to keep an eye on the shipping cost. We'll send any size order to any address in Australia via Australia Post Express at the low flat rate of $13.
Please note that there are some products that can not be sent via express post. These exclusions include E6000 Adhesives, aerosol sprays, etch solutions and some other products classified as dangerous goods. Although on some small orders, the cost to us may be less than the amount charged, the majority of orders cost us well in excess of amount charged. On average, we do not profit from postage.
Free Postage – Orders over $100
Free postage will be available at checkout on any order of $100 or above. Simply place an order for $100 or more worth of products, and Regular Postage will be offered free of charge to any standard address in Australia.
To get free postage, you do need to select the free postage option at checkout which will be available along with the Regular, Express and Pickup options during checkout on orders valued at $100 or more, after any applicable discounts. If you don't select the free post option, we will be unable to amend the postage selection once the order is processed and paid.
Tracking & Insurance
Most services now include basic tracking. Please contact us if you would like additional insurance or a signature on delivery service to cover your order. 
International Orders
For orders sent out of Australia, we will provide postage options and they will be charged at cost. Due to the wide ranging costs depending on the order size, weight, destination and service, we are unable to provide a cost before an order is picked and packed. For all international orders, please contact us for a postage quote before ordering.
Rates apply to All Online Orders
Please note these free postage and flat rate prices apply to orders placed through this website and paid in full via credit card, PayPal or Bank Deposit only. Phone or email orders will incur postage costs at the rates advertised by Australia Post or Couriers Please. In the majority of cases, these flat rates offered are far below our actual true cost of postage.
Dispatch Times & Service Providers
Orders may be sent via Australia Post or Courier depending on your address and the order size & weight. Most orders will be dispatched on the same or following business day, when all items are in stock.