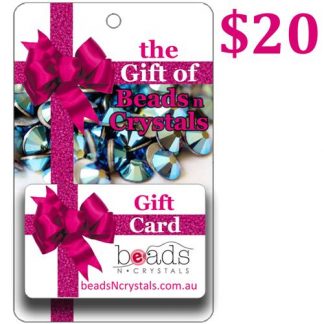 Buy and Gift Beads N Crystals Gift Cards
Beads N Crystals offers Gift Cards in almost any value. They make a perfect gift for anyone interested in beading and many other crafts. Give the gift of choice and let them select from over 15,000 beads, crystals, tools and lots more. They are supplied as a paper-based biodegradable physical card which can be spent in-store or online.
Valid for 3 Years
Choose Your Value
Posted to you or the recipient for free
Choose any value from $10 up to $500 (contact or visit us)
Bead Lover Points Vouchers
Bead Lover members earn Loyalty Points on many purchases. The points will automatically convert to a $10 gift voucher for every 250 points earned. These vouchers are valid for 12 months from date of issue. You're welcome to collect and spend multiple vouchers at once. These vouchers can only be redeemed by the customer to whom it was issued. Lost your voucher? No problem, we can look them up for you!
How to Spend Bead Lover $10 Vouchers Online:
Check out your order and select the Direct Bank Deposit payment option
Make a note of the Gift Voucher number (barcode number). If you don't have that, please just tell us you have a voucher in the order notes.
We'll apply your voucher(s) and contact you for any balance payment.
How to Spend Bead Lover $10 Vouchers In-Store:
remember to hand us the voucher (or tell us you have one in the system) before making payment for your purchase!