10,000 Local In-Stock Items at Wholesale Prices
Beads N Crystals offers wholesale purchasing options to eligible Australian and New Zealand based businesses and organisations. A true wholesale transaction is between an importer or supplier (Beads N Crystals) and an entity that is either a commercial consumer or not the end user of the products or services in the transaction.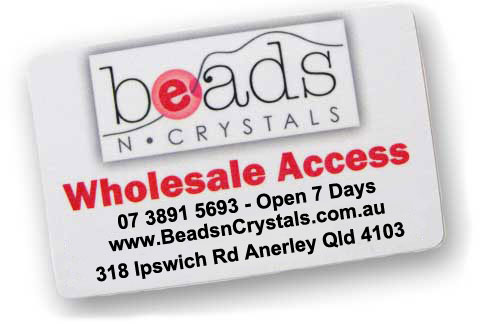 If you wish to purchase for the purpose of eventual resale or use within a business, organisation or other body corporate, or if you fit into any of the following categories, you probably qualify as a Wholesale client:
Companies
Retail Stores
Online Retailers
Jewellery Designers
Craft Class Organisers
Market Stall Operators
Government Departments
Lapidary Clubs & Members
Manufacturing Wholesalers
Textile, Jewellery or Art Students
Hospitals & Special Care Providers
Schools, Colleges, Education Facilities
Athletes such as Gymnasts, Performers
Charity Organisations & Community Groups
Any Entity falling under the legal definition of Body Corporate
Wholesale prices are generally calculated as a percentage off our regular retail prices. These percentages vary depending on the product category, and can depend on the quantity of any given item purchased.
A minimum order value of $100 after all discounts and before any applicable postage costs applies to the first purchase. After this a minimum spend of $50 per order GST inclusive and excluding postage will apply. We only require one purchase at wholesale every year to keep your wholesale access open until the end of the following year.
To apply for wholesale access, please register as a new customer or log in and purchase our Wholesale Deposit for $100 and choose Free Post or Pickup at checkout. (This deposit will be used as a credit on your first order.) In the comments at checkout enter the following details:
* Business or Trading Name~
* ABN or ACN or Charity Details or Not for Profit Status etc
* Full Contact Name
* Contact Phone Number
* Physical Address if different from the postal address you entered
* Main Business Function (ie Making jewellery for sale in shopping centres; or Running workshops at aged care facility) *
* indicates compulsory information for a valid wholesale account. Applications can be made online or in-store with a qualifying purchase.
~Business or Trading Name – A registered name, or if you do not have a registered business name, provide the name you will use on products made for sale. The name you give us does not need to be a registered name. We can not accept a name exactly the same as the contact unless containing another word. For example "Jane Smith Designs". Exceptions apply to registered business names the same as the contact name, or students and performers.
Once your access is approved we will supply full terms & conditions and pricing structure along with online and in-store access to wholesale pricing. Your first purchase of $100 or more to consume the Wholesale Deposit must be made within 12 months of wholesale application. No refund of deposit is possible if not consumed within 12 months. A retail gift voucher for the full value or a refund of the deposit less merchant fees will be provided where an account application is rejected for any reason such as but not limited to incomplete details, false ABN or change of mind.
Any order placed online on a wholesale account where the goods value is less than $50 after discounts and before postage will automatically close the account. We will then need to re-assess your details to re-open the account if required.
By legal definition, Wholesale is a Business to Business transaction. It is the Wholesale clients responsibility to notify Beads N Crystals if circumstances change. By using Wholesale access, you confirm that you comply with the requirements of Wholesale and indemnify Alexandra Bay Pty Ltd against any repercussions resulting from action if you do not actually comply at the time of each access or purchase.