Step into a world of boundless creativity and endless possibilities at Beads N Crystals bead store, where a treasure trove of beads awaits your artistic vision. Prepare to be captivated by the expansive and diverse range of beads, which will ignite your imagination and elevate your jewellery-making projects to new heights.
Beads N Crystals boasts a dazzling assortment of beads that caters to every taste, style, and occasion. From delicate seed beads in a myriad of colours, sizes and finishes to exquisite gemstone beads that radiate natural beauty, our collection is a kaleidoscope of inspiration. The array of glass beads, with their captivating hues and patterns, is a testament to the artistry and craftsmanship that go into creating these tiny masterpieces. Meanwhile, the selection of metal beads provides a touch of elegance and sophistication, allowing you to add a polished and refined aesthetic to your designs.
What sets Beads N Crystals apart is not just the sheer variety of beads but also our unwavering commitment to quality. Each bead is a testament to our team's meticulous attention to detail, ensuring that only the finest beads grace the shelves. Whether it's the flawless lustre of a pearl, the premium quality of Swarovski or Preciosa beads, the smooth texture of a ceramic bead, or the intricate facets of a crystal, the craftsmanship is evident in every bead on offer.
Beyond the extensive selection, the team at Beads N Crystals are a beacon of knowledge and passion. Our staff members are not just salespeople but seasoned artisans themselves, eager to share their expertise and assist you in finding the perfect beads for your project. They take the time to understand your creative vision, offering valuable advice and innovative ideas to help bring your designs to life. Their dedication to customer satisfaction is evident in the personalised attention we pride ourselves on offering, making your shopping experience a delightful journey of discovery.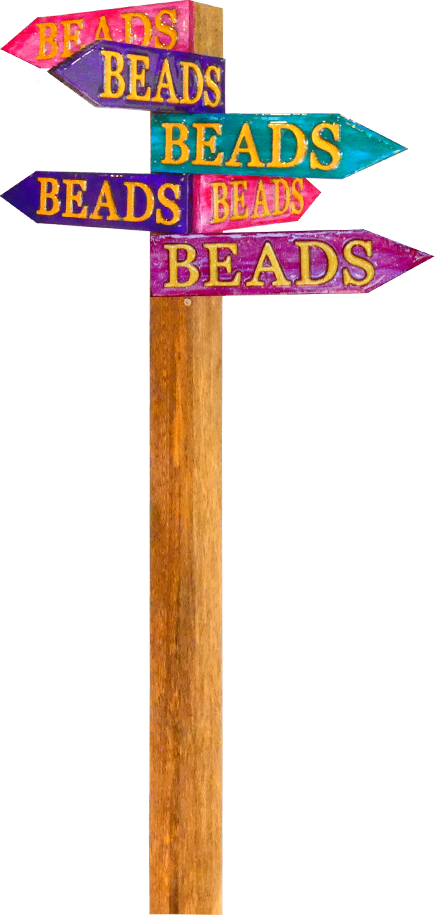 Our unique Beads and Beads and Beads Sign posted in the centre of our shop was hand-crafted on site from repurposed picture framing wood from a local business.
The wood panels are painted with Unicorn SPiT Gel-Stain and glaze, straight from the bottle, while the letters are cardboard scrapbooking pieces painted with Golden Gozling Unicorn SPiT.
The colours are brought to life with a thick glass-like 2-pac gloss finish, thanks to a thick pour of Famowood Epoxy Resin, from the makers of E6000.
Stepping into Beads N Crystals is like entering a realm of infinite possibilities. It's a place where your imagination is free to roam, where colours, textures, and shapes come together in harmonious symphony. Whether you're a seasoned jewellery maker or a novice enthusiast, our store is a haven that nurtures your creativity and fuels your passion.
Just like our gorgeous hand-crafted sign, we have beads in literally every direction. Whether you're after beads for stringing, beads for wearing or beads for crafting, we have every aspect covered. Beads and beads and beads at every turn!
We're centrally located in Annerley on Brisbane's inner south, just 10 minutes from the Myer Centre in the Brisbane CBD, 5 minutes from Stones Corner and Buranda station, and only 15 minutes from Stafford City or Westfield Mt Gravatt, with easy access from the Ipswich Motorway, Clem 7, and South East Freeway.
So, if you're seeking beads that inspire, beads that awaken your artistic spirit, look no further than Beads N Crystals in Brisbane. Let our vast selection of high-quality beads and our exceptional customer service be your guiding light as you embark on your beading adventures. Prepare to be enchanted, enthralled, and utterly inspired by the extraordinary world of beads that awaits you at Beads N Crystals.
We're not that kind of bead shop!