18k Gold Plated Cubic Zirconia Charm Give-away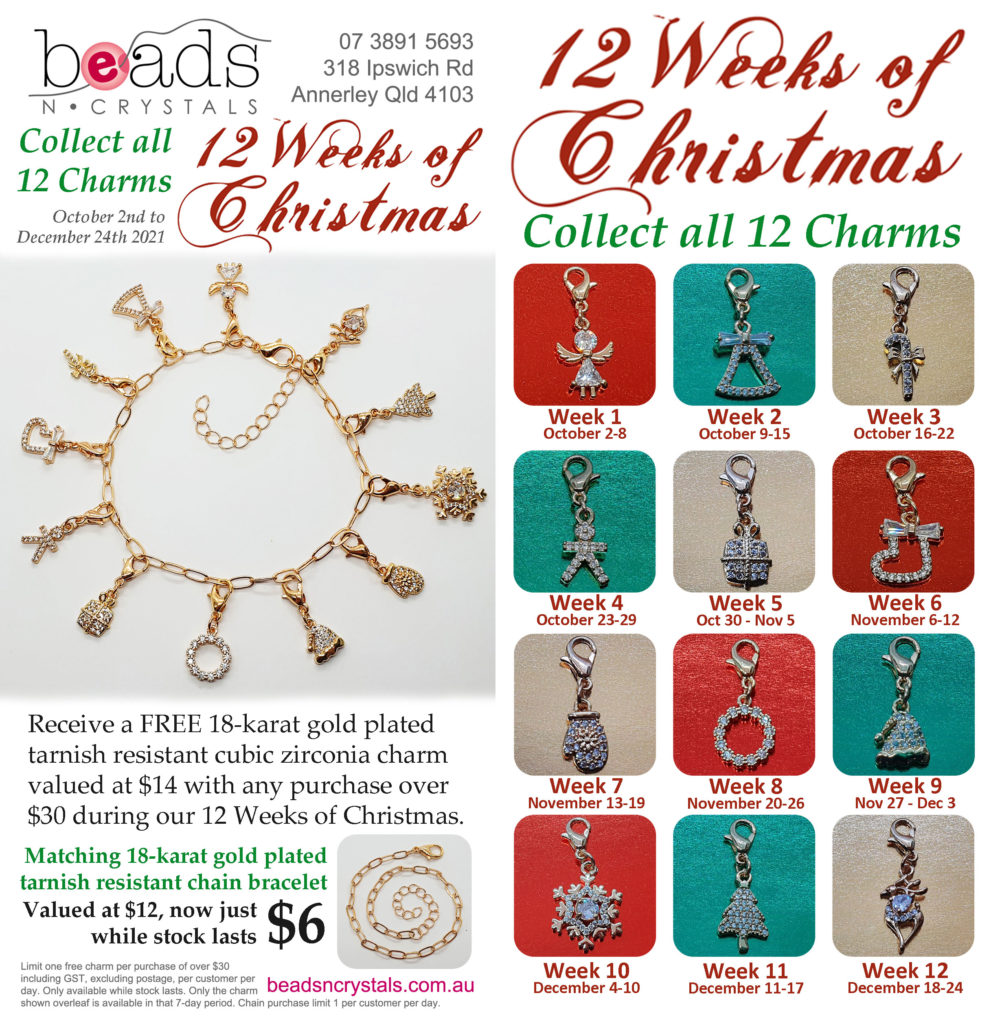 After a break last year, our famous 12-Weeks of Christmas give-away is back bigger and better for another year! Receive a FREE 18-karat gold plated tarnish resistant cubic zirconia charm valued at $14 with any purchase over $30! Check out the 12 brilliant festive designs above. A different one is available each week with a new style released every Saturday.
Get in early, we have a very limited number of charms each week and they're only available while stock lasts.
Turn your charms into a gorgeous bracelet with our matching 18k gold plated tarnish resistant chain on sale while stock lasts at just $6. Limited to one purchase per customer per day until sold out.
If that wasn't enough, we're also releasing a huge new special deal each week as well right up until Christmas. Keep an eye on this page and your emails for the weekly deals! They're going to be GREAT!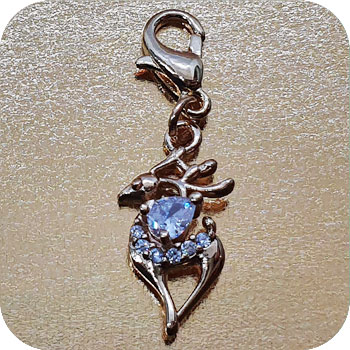 How does it work?
Simply place an order online or make a purchase in-store between October 2nd and December 24th 2021 to the value of $30 or more (including GST, excluding postage) and we'll give you the corresponding charm for the date the order was placed. We'll supply it automatically! Simple! (But only while stock lasts)
All physical product purchases are eligible. Open to Australian orders including retail, wholesale, VIP, Bead Lovers, and non-members. Free charms do not apply to gift voucher or wholesale deposit purchases. Also not applicable to purchases where the total becomes less than $30 due to a credit, refund or exchange. For example if you purchase $30 worth of goods to receive the charm and return the goods but plan to keep the charm you will need to pay for the charm. Only available to orders placed through this website or in person at our shop. Not available to phone or email orders, or orders we may manage through another website or marketplace. The charms are non-refundable and non-redeemable for cash or credit, subject to statutory rights under the trade practices act.
WEEKLY SPECIAL
What are the limits?
Only one charm is available per customer per day on a qualifying purchase. You may return within the week or any number of times during the promotional period to collect more charms on other purchases. Charms are limited to the first 200 customers per week, with the week beginning 12.01am Saturday EST (Brisbane non-daylight savings time). Where a charm runs out within the 7-day period for that charm, no other alternative free item, credit or other benefit will be made available and no future charm will be brought forward to cover any shortfall.
STOCK AVAILABILITY
There is a very limited number of free charms available each week. Get in early to avoid disappointment. Charms may run out before we are able to put a notice on this page.
Any remaining stock will be available for purchase from the day after the corresponding week ends. Please check back after mid-day on Saturdays to see if any remaining stock is available from the previous week. Charms are $14 and there is a generous 50% discount on offer while stock lasts. No purchase limits will apply once released for sale and they are available only until the allocation has sold out.