VIP Gold is our exclusive club for serious beaders who want all the perks.
Members collect points, earn gift vouchers, receive free gifts every month and enjoy deep discounts on the majority of the products we stock.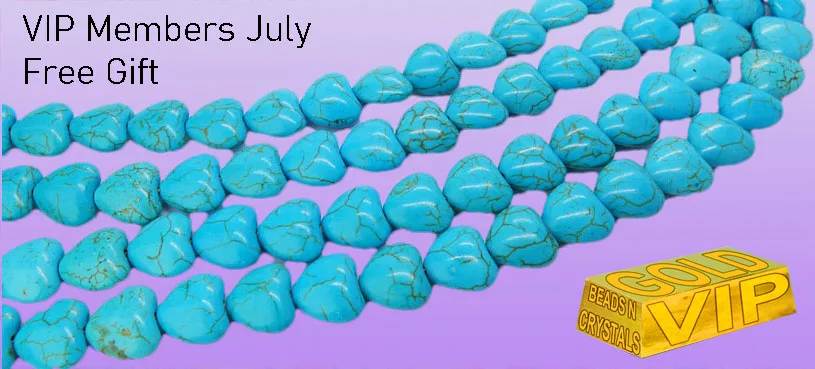 Collect points and earn $10 gift vouchers.
Almost every purchase will earn points on your account which will automatically convert to gift vouchers that you can use to buy anything you like from our store or website. The best part is, as a VIP member you'll earn full points, even on discounted monthly specials. For example, a $10 strand of Glass Crystal beads will still earn 10 points even when bought for just $5 during the 50% off sale in July. The January free gift of Labradorite and White Jade still earned the full 29 points even though they're totally free!
Earn Points on Most Purchases
250 Points = $10 Gift Voucher
Use It to Buy Whatever You Want!
Free Beads Every Month – a $200+ Value
As a VIP, you'll receive a free gift of beads each and every month with any spend of $10 or more. The total value of free gifts available in 2023 is close to $240! Members receive a monthly email advising the free gift.
Monthly Discounts – up to 50% off
Each month of the year, VIP's have access to an exclusive special discount. The monthly discount can be used on any number of qualifying products any number of times within the month (subject to fair use of the offer – for personal use only). Here are the deals for 2023:
JANUARY – 50% Off Wood, Shell, Glass, Porcelain, Clay Beads – Loose or Strands (excludes BK401, crystal, seed beads)
FEBRUARY – 30% OFF Rhinestones, Sequins, Packaging & Displays – Includes Swarovski $12 packs and shimr brand
MARCH – 30% OFF Tools, Tool Sets and Plastic Storage – includes Silicone Molds & Sculpey branded tools
APRIL – 40% OFF Findings & Clasps – includes Sterling & Gold Findings & Clasps
MAY– 40% OFF Seed Beads – Hanks, Packs & Tubes. Excludes Miyuki factory packs
JUNE – 30% OFF Polymer Clay, Resin, Unicorn SPiT, Adhesives – excludes tools & accessories
JULY – 50% OFF Glass Crystal Bead Strands – Excludes Czech glass, Swarovski & Preciosa
AUGUST – 40% OFF Freshwater Pearl Beads – Loose or Strands
SEPTEMBER – 40% OFF Pendants & Charms – Includes Christmas. Excludes crystal and sterling silver.
OCTOBER – 30% OFF Preciosa & Swarovski Packeted Pendants & Beads – Excludes Factory Packs, Loose and Strands
NOVEMBER – 30% OFF Wire, Chain, Cord, Neck Cords & Threads – Includes Sterling, Argentium & Gold wire
DECEMBER – 40% Off Gemstone Beads + Rough & Tumbled Stones – Includes loose and strands
Exclusive VIP Specials Every Month
The monthly email will include extra offers just for members. There may be discounts, pre-released items, exclusive products, clearance deals and more.
Extended Exchanges – 6 Months
Our standard 14-day change of mind exchange policy is extended to 6 months for current VIP members. Please note the advertised standard exclusions in Our Exchange Policy still apply. This does not detract from your rights as set out in Our Refund Policy and in accordance with consumer guarantees.
How to become a VIP Gold Premium Member?
Joining our VIP program is quick and easy. Simply purchase the VIP Membership and we'll set you up with access to all the deals and gifts. There are a limited number of memberships available each year due to the volume of free gifts we need to provide. Join while memberships are open to avoid disappointment.
Note that membership is open to local Australian retail customers of Beads N Crystals. Become a customer now. VIP is not available to international customers or wholesale clients. Please refer to the terms and conditions of membership.