Soutache Braid is a versatile decorative trim that can be used in a variety of ways. The threads resemble a figure-8 shape with a tightly woven braid. Simply stitch a thread through the centre of the braid and later the threads on their edge rounded to surround beads and cabochons. Add a backing such as Ultra Suede to finish.

Here are some ideas of what you can make using this interesting and versatile cord:
Jewellery: Soutache is a popular material for making statement jewellery pieces such as earrings, necklaces, brooches, and bracelets. The braid can be shaped into intricate designs and combined with a variety of beads and other embellishments.
Clothing: Soutache can be used to add decorative details to clothing, including dresses, jackets and even shoes. It can be sewn onto fabric in intricate patterns or used to create three-dimensional embellishments.
Home decor: Soutache can be used to add a decorative touch to home decor items, such as pillows, curtains, and lampshades. It can even be used to create unique patterns and textures that will add visual interest and unique characteristics to these items.
Accessories: Soutache can be used to create a variety of accessories. Things like handbags, belts, scarves, and headbands for example. It can be combined with other materials like leather or fabric, to create unique and eye-catching designs.
Art: Soutache can be used to create intricate and unique works of art, including wall hangings and sculptures. Artists can use the braid to create amazing three-dimensional shapes and structures, which can be combined with other materials to create bespoke mixed-media pieces.
Soutache Braid is a versatile material that can be used in a variety of creative projects. Its flexibility and ability to be shaped into intricate designs make it a popular choice for crafters and artists alike.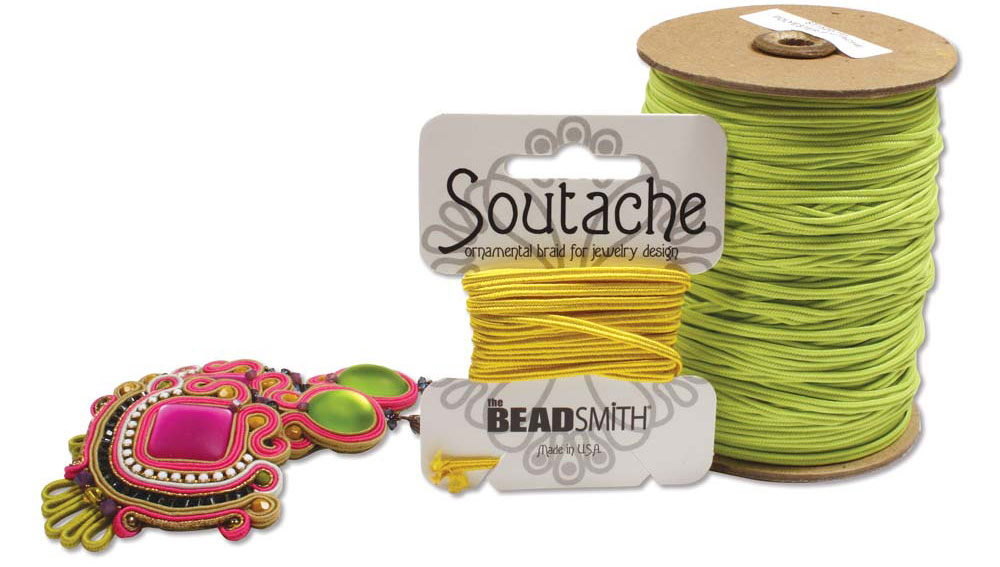 Soutache Jewelry Making Supplies
Dating back to the 19th Century, Soutache cords have been used in military uniforms to denote ranking and highlight badges. In clothing, Soutache cords are used as an edge around numbers and names on sports uniforms and an elegant trim on formal wear.
Now Soutache has been reimagined as graceful curves in stunning embroided jewellery. Best part is, it's easier than it looks!

Where can I buy Soutache Braided Cords and Supplies?
Beads N Crystals is Australia's leading online source of Soutache Cords, Beading Foundation, Ultra Suede, threads and even Soutache Books.
Learning to make Soutache Jewellery and accessories is relatively easy with our range of detailed instructional books. It's also a very low-cost craft as most beaders will already have a selection of beads suitable for Soutache. The only new things you'll need is the Soutache Braided Cords and some Ultra Suede which is used as a finishing for the back. Some threads (KO or Miyuki thread come in a great range of colours. Alternatively NYMO threads work well too), a needle, scissors and a sprinkling of beads is all you'll need to get started.
We like to use Swarovski Pearls, Czech Firepolished Beads, Shell Coins, Japanese Seed Beads and a few Gemstone Beads in our designs.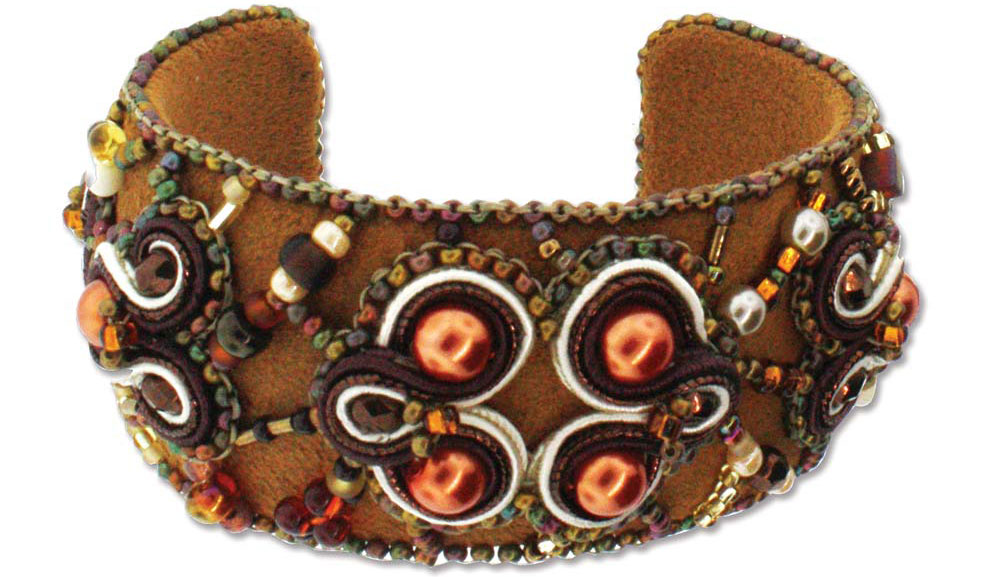 Soutache Isn't New, but it's still on Trend
Soutache (pronounced soo-tarsh) is a type of narrow, flat braid or trim that has been used in decorative and functional ways throughout history. The word "soutache" is derived from the French word "soutacher," which means "to hold together." This is exactly how the thread is used today. To hold together beads and embellishments into a decorative wearable or non-wearable creation.
The use of soutache in fashion and even military uniforms dates back to the 16th century, where it was used as a decorative element to add texture and detail to garments. In the 18th and 19th centuries, soutache continued to be used in military uniforms, but it also became popular in women's fashion, particularly in the form of braided trims and corded soutache embroidery.
During World War I and World War II, soutache became a popular embellishment for military uniforms, particularly in the form of epaulettes and shoulder boards. In the United States, the Army used soutache extensively in their dress uniforms, and it became a symbol of military rank and prestige.
By the mid-20th century, soutache began to be used in fashion more broadly, particularly in the form of beaded and embroidered soutache trims on dresses, jackets, and other garments. Today, soutache is still used in both military and fashion contexts, and it is also used in jewellery making and a wide array of other decorative arts.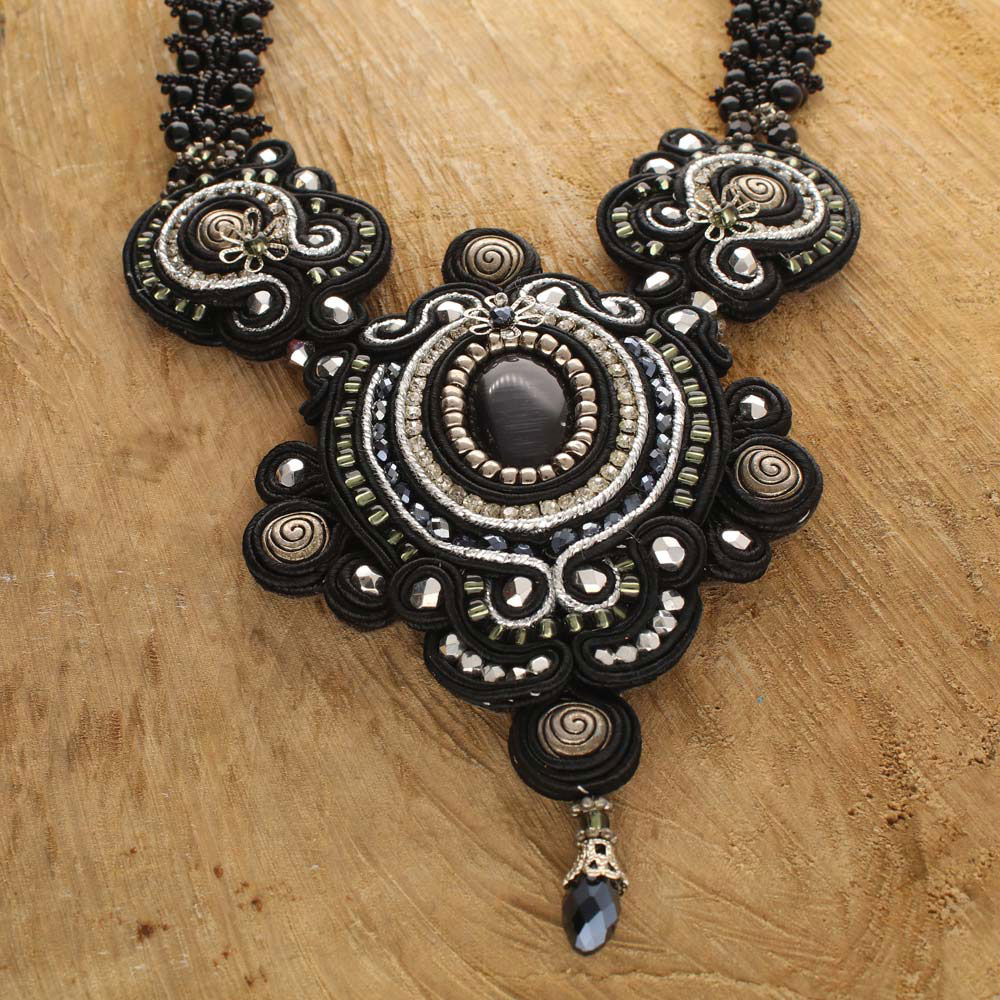 The technique of creating soutache designs involves using a needle and thread to sew lengths of soutache braid into intricate patterns and shapes. This technique is often used in combination with other forms of embroidery and beading to create elaborate and ornate designs.
Since the number of beads required to complete a Soutache jewellery item are minimal and the threads themselves are inexpensive, it's quite a cost effective way to make unique and valuable looking pieces. In fact the most expensive element is often the time taken to create the piece.
Because this technique makes use of items generally found in the average beaders stash, we've found most of our customers can begin creating with the need to purchase nothing more than a few metres of thread.
This is a rewarding technique that's easy to master so we do recommend giving it a go and making good use of some of your odd beads.